UGHHH WHY MUST YOU REMIND ME OF SUCH GRAINY GIFS (EVEN THOUGH I MADE THIS FOR THE PURPOSE OF TRANSPARENCY.)
UGAHHHHHH-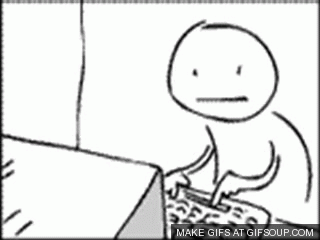 (pst here's the original link btw: http://essu-rwby-desu.tumblr.com/post/97498404120/rwby-chibirwby-neo-by-essynthesis)
(via lumen-fortuna)
Anonymous asked:
How do you stay so positive and happy?You just seem so upbeat and optimistic all the time and I love it.i wanted to know your secret.
I like to focus my energy on the positive things in my life (not to say I ignore the bad). It just seems more worthwhile to devote my time to things I enjoy rather than things that stress me out.
i haven't drawn this disaster child in a while so have a 15 min sketch of her
(via funblade)
Pyrrha sketch prompt from last night.

whoaaaa what a great pyrrha she's amazing
(via booksandweapons)
I would like to introduce this great video to you!

As for this video, Japanese RWBY fans perform a stand-in in Japanese by a volunteer. Although they are not professional voice actors, the performance suits the character very much. I would also like you to look at their performance by all means. 

NORA BABBLING IN JAPANESE IS TOO CUTE IM GOING TO CRY, IM CRYING, GOOD BYE, BYEEE BYEEEEEEEEEEE
(via miss-nerdgasmz)
a cool cat
(via xuunies)
Fucking.
Finally.
Now to transmute this bitch, lol.
THE CORGI THAT ZWEI IS BASED ON IS NAMED JUNKERS
He's so cute!!
Finished a mini gouache painting of Blake Belladonna. Addicted to RWBY at the moment….
When you make a long text post then your browser crashes on you.
God.
Damn it.
And ta-daa! All four put together!

I took a crack at making a RWBY poster for a contest Roosterteeth was holding! I ended up trying a lot of new stuff. It was super frustrating, but also super fun!